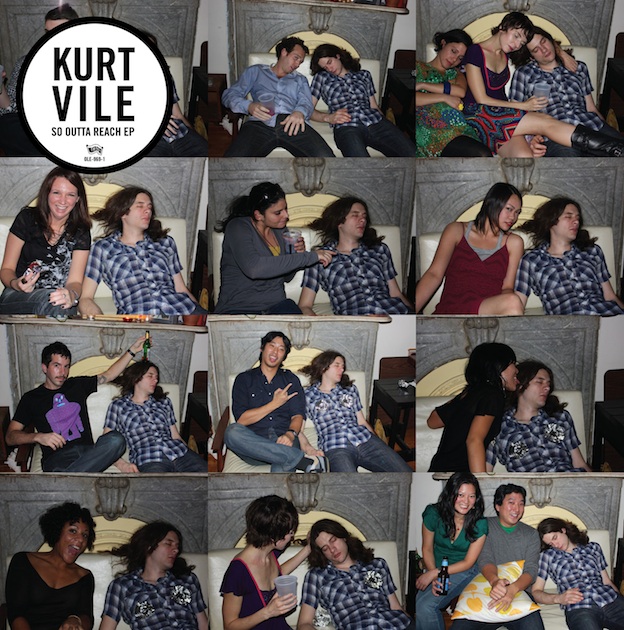 Philadelphia player Kurt Vile has perfected a delicate yet fresh mixture of attractive ambience, freaky folk, vintage FM tone and drifter Americana confession since going at it solo in 2008. Channeling greats like Young, Petty and Springsteen, Vile's already bang-up year (touring with Foo Fighters and Bright Eyes included) comes to a close with both the deluxe release of Matador's almost universally loved Smoke Ring For My Halo as well as an included (and separate) EP release dubbed So Outta Reach.
Containing five original songs which were initially recorded during the Smoke Ring sessions but not used, the material has since been reworked with album producer John Agnello and packaged in addition to a cover of The Boss's 1985 Born in the USA lament "Downbound Train." As in the line of Vile's muted crest of blurred musical comfort, So Outta Reach is intimate, mastered and enjoyable to hear, though there's not much here to trump the album cuts outright. While Vile doesn't seem to mind harnessing the paced nature of a prolific songsmith, (two of the EP's songs are basically the same- "Life's a Beach" and "(so outta reach)"), this EP does have its moments.
The feel of cold concrete walls, Vile's earnest, chilling voice fills the ears on cuts "Life's a Beach" or "Laughing Stock." Take the slow-growing atmospheric latter and just listen to the way he counts at the start- that drawl! That tone! With four albums under his belt, this is but a piece of what makes this Philly longhair continue to flourish. Changing looking inward to projecting outward to give advice, the Reach EP's longest track, "Laughing Stock" sits on an interesting platform, telling the story about a blunder ("There's a time and place for that" Vile pours) and how one can deal with its repercussions. It's not a groundbreaking moment, but fresh no less.
The first time I saw Vile live, I almost hated it. Another man on a stool with a guitar- I just about fell asleep. The blunder I made is a common one: taking sides after taking in the art and since then, Vile's music has very come around to me.  The music is what it is- pensive and patient- and without giving Vile your listener's ears, the songwriter's not going to be baring you any fruit.  Where the music shines is in just how flatly he delivers these certainties. Take opener "Creature" and its lyrics: "She said I'm a creature of habit, oh he's so cute, with her claims. Ain't got time for asking questions […] so I just nod." The ever-so-slight organ groans, the acoustic swirls, the song shows the no-nonsense way that Vile approaches songwriting and how there's no need for answers. He seems at time immune to structures, singing in this ghostly breeze to whatever flow he wants- a slur of sorts. The songs are mysterious, complex odes and what's so appealing about it is that you won't have that hard of a time seeing this if you only just give it a moment.
So Outta Reach is not a must-own nor is it worth passing over. There are moments, but as the holidays are approaching and the proclivity to packaged content rises, I suggest to those new ears interested in Vile to simply just opt for the deluxe edition of Smoke Ring which Matador released on the same day as this EP- it includes the entire Reach EP as the edition's second disc for the same price as the original, single-disc issue.
This review originally appeared on the Mishka Bloglin.